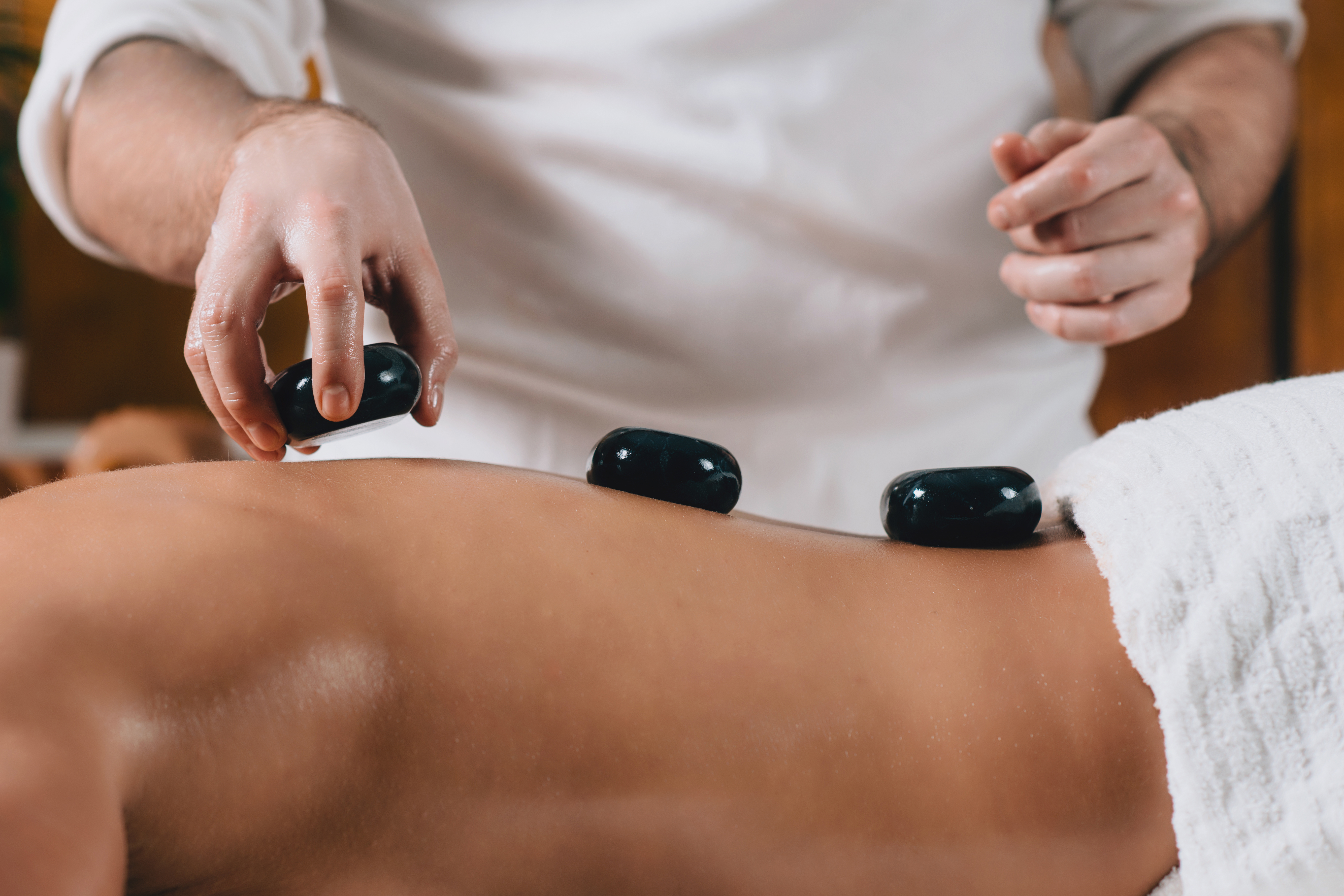 Laavakivimassaaži kursus on kombinatsioon (pindmistest) massaaživõtetest ja kuumutatud laavakividest (kuni 70 kraadi). Laavakivid asetatakse spetsiaalsesse veega täidetud anumasse, kus need soojendatakse soovitud temperatuurini ja seejärel asetatakse kuumad laavakivid inimkehale kindlatesse keha piirkondadesse. Sõltuvalt laavakivide temperatuurist ning kujudest, siis laavakivid asetatakse inimkehale sel viisil, et tavaliselt pannakse käterätik laavakivi ja naha vahele. Samas kui laavakivi kuju, temperatuur ja keha piirkond seda lubavad, siis saab laavakivi panna otse nahale ilma käterätikuta. Seejärel kui soojendatud laavakivid on teatud keha piirkondadesse asetatud, saab alustada massaaži teostamist laavakividega teistes keha piirkondades.
Laavakivimassaaži kasulikkus tuleneb paljuski soojendatud laavakividest, sest soojus parandab vereringet ja seeläbi muudab inimese skeletilihased elastsemaks, mis omakorda aitab vähendada liigestele langevat survet. Selle tulemusel võib väheneda liigesvalu(d). Seega on soovitatav laavakivimassaažis käia just talvekuudel, sest külm ja/või niiske kliima ei pruugi mõjuda liigestele eriti hästi, kuid soojad laavakivid aitavad keha ja liigesed n-ö üles soojendada.

Õppekavarühm
Teraapia ja taastusravi
Õppekava maht ja kursuse kestus
Laavakivimassaaži kursuse õppekava maht on 8 akadeemilist tundi, millest teooria moodustab 1 ja praktiline harjutamine 7 akadeemilist tundi. Laavakivimassaaži kursus toimub ühel päeval või kahel õhtul.
Õpingute alustamise eeltingimused
Laavakivimassaaži kursusel võivad osaleda kõik soovijad, kellel on suur huvi omandada teadmised ja oskused laavakivimassaažist. Eeltingimusi koolitusel osalemiseks kehtestatud ei ole, sest laavakivimassaaž ei ole oma loomult keeruline massaažiliik, mida õppida ja iseseisvalt praktiseerida.
Learning outcomes and documents to be delivered
Laavakivimassaaži kursusel hinnatakse õpiväljundite saavutatust. Õpiväljundite saavutatuse korral väljastatakse kursusel osalejale tunnistus. Õpiväljundite mittesaavutamise korral väljastatakse kursusel osalejale tõend, kus tõendi väljastamise eelduseks on osalemine õppetöös vähemalt 70% ulatuses. Õpiväljundite saavutamiseks tuleb sooritada praktiline arvestus, kus iseseisvalt tuleb sooritada laavakivimassaaži tervikseanss, kombineerides massaaživõtteid kuumutatud laavakividega.
Laavakivimassaaži kursuse temaatika
Laavakivimassaaži kursusel tulevad käsitlemisele järgmised teemad:
laavakivimassaažiseansi ülesehitus ja mõjutatavad keha piirkonnad;
laavakivid ja nende paigutus inimkehal;
laavakivide soojendamise põhimõtted;
laavakivimassaažis kasutatavad õlid (sh õli õige doseering);

laavakivimassaažis kasutatavad massaaživõtted;

näidustused ja vastunäidustused (laavakivi)massaažiks;

seos teiste massaažiliikidega.
Millal toimub järgmine laavakivimassaaži kursus?
Tulevaste kursuste ajakava leiad siit.